Covington Convenient Roll Off Dumpster
Rental for Every Type of Project
Battle Born Disposal offers convenient roll off dumpster rental for every type of project. Whether you're renovating your home or clearing out a construction site, we have the perfect container for the job. (Only 15-yard dumpsters are available – call now to reserve yours!)
What Is a Roll Off Dumpster Rental?
A roll off dumpster rental is a type of container used to dispose of waste from construction sites, commercial businesses, and residences. The name "roll-off" comes from the way these dumpsters are delivered and picked up; they roll off of a truck onto your property.
Roll off dumpsters come in a variety of sizes, but the most common roll-off dumpster size is 15 yards. This size is perfect for smaller construction projects, like bathroom remodels, or decluttering your garage.
Proudly Serving Covington and Surrounding Areas
Battle Born Disposal offers construction dumpster rental in Covington, Louisiana. We proudly serve Covington and surrounding areas with top-quality dumpsters for rent. Our 15-yard dumpster is perfect for construction and demolition debris, making your cleanup process quick and easy. With Battle Born Disposal, you can rest assured that you're getting the best service possible.
Our team is dedicated to providing you with prompt, courteous service and competitive rates. We have a variety of dumpster sizes available to accommodate your needs, and we're always happy to answer any questions you may have. Give us a call today, and let us help you take care of your construction debris cleanup!
Roll off dumpsters are typically referred to as roll-off or garbage containers in various locations.

Roll off containers
Roll-off containers are the perfect way to dispose of your waste with ease. These containers are available in a variety of sizes, so you can find the perfect one for your needs. They're also easy to use - simply roll them off of the truck and onto your property. This makes them perfect for construction projects, commercial businesses, and residences.

Roll away dumpsters
These are available in a variety of sizes to accommodate your needs. The smaller dumpsters are ideal for small cleanups, such as removing leaves from your yard or cleaning out your garage. Larger dumpsters are perfect for larger projects, such as remodeling your home or clearing out the attic.

Roll-off boxes
A roll-off dumpster is a large metal container that is delivered to a job site and then filled with construction or demolition debris. The debris is then hauled away by a truck.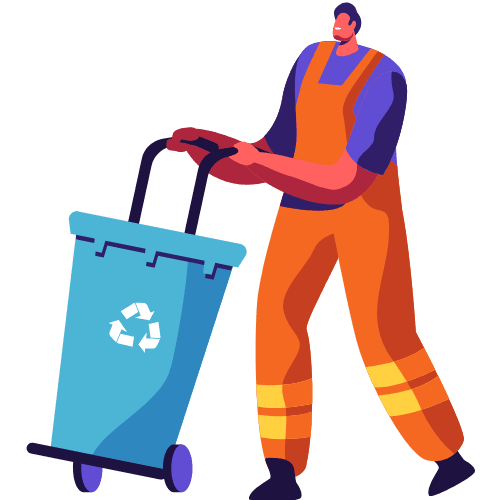 Debris boxes
Debris boxes are a great way to dispose of your large items. You can fit a lot of stuff in them, and they're easy to use. Just call the company and they will deliver one to your house. Then you can fill it up and the company will come and pick it up and take it away.

Temporary containers
Temporary containers are just what they sound like – containers that are meant for temporary use. They can be rented or leased for a short amount of time, and then they're usually disposed of or recycled. This is a great option for events or projects that only require a small amount of space.

Bins, tubs, or cans
Bins, tubs, or cans are a great way to dispose of your extra garbage. You can place all of your garbage in one bin and take it to the dumpster when it is full. This is a great way to avoid making multiple trips to the dumpster. Whatever you want to call it, all of these phrases are referring to the same thing: a hassle-free waste removal solution for the sorts of messes you can't put out on the curb. Furthermore, there are several different kinds of roll-off containers available for various materials.
Find the Correct Roll Off Dumpster by Debris Type
Battle Born Disposal is proud to offer our customers the best selection of roll-off dumpsters for any type of debris and junk removal in Covington. From construction waste to furniture and appliances, we have a container that will fit your needs. We also only offer 15-yard dumpsters, so you never have to worry about overloading or not having enough space.
The 3 Most Common Dumpster Types:
How to find the perfect-sized roll-off dumpster for your project?
Our Roll-off Dumpster Rental Process
Fill out an online form to obtain a price or request a quote.
If you would like to receive a quote on a roll-off dumpster rental for your Covington, Louisiana business or home, please fill out our online form with your contact information. One of our experienced customer service reps will be in touch with you shortly.
Schedule a Pickup
We understand that when you're done with your project, the last thing you want to do is worry about disposing of the waste. That's why we offer an easy online scheduling system for dumpster rentals.
Types of Materials We Accept
Before you begin, ensure that you are aware of what items can be thrown away in your roll-off container. Some items are not accepted in dumpsters due to local, state, and federal regulations.
WHY YOU NEED A ROLL-OFF DUMPSTER RENTAL IN COVINGTON, LOUISIANA?
Why Choose Battle Born Disposal?
Battle Born Disposal is the only call you'll need to make for all your dumpster rental needs! We offer a wide variety of dumpsters for rent, perfect for any sized project – big or small. We have roll-off dumpsters, and other units available to meet your specific needs.
Renting a dumpster doesn't have to be a hassle. With Battle Born Disposal, we take care of everything for you so you can focus on your project. We deliver the dumpster, you fill it up, and we haul it away when you're finished. It's that easy!
Call us today at (985) 338-6993 to get started on your next project!